Adam's New Year's Eve performance wowed us and made us wish ticket sales for his upcoming tour were tomorrow. Hopefully Adam is getting a chance to take a well-deserved breather from his non-stop schedule that began in 2008 with his first American Idol audition, and ran right up to the New Year's Eve Gridlock concert. While Adam takes that breather, we may be a little short on web site news, so I'd like to take this time to introduce 100 Monkeys, a band that my BFF web site administrator Lila Hayes has found, and I gladly went with her to discover the magic of their live performances. By no means does this mean I'm abandoning Adam! Just the reverse. He's always promoting his fellow artists and I'm just following his lead. Besides, I have to have something to keep me occupied while I search for news about Adam to write up for this site and wait patiently for his next appearance!
Introducing 100 Monkeys – they're a HOT band that is really fresh and fun to see live! They are extremely creative and original.
Here's what led to Lila's discovery. (Take notes: it will come in handy when you play Six Degrees at the end of this article!) With early comments made by Idol Judge Randy Jackson about Adam's crossover to the style of Twilight and Adam's confirmation on loving the book, Lila checked into the book series. She's an avid reader and tore through all four books in about a week. Being a savvy internet explorer, she discovered that Jackson Rathbone, who plays Jasper Cullen in Twilight/New Moon is also a member of the band 100 Monkeys. She learned they were playing in West Hollywood at The Viper Room last November 15 and from there it was GO. This is the same Viper Room that Johnny Depp was a part owner of until 2004, and was the scene of many of Hollywood's juicy and tragic stories. Most notably this was the location where actor River Phoenix collapsed of a drug overdose outside the club and died on Halloween 1993. Being devoted to satisfying our social whims, Lila & I bought tickets ($10 each) and drove 150 miles from San Diego for a little LA shopping and our musical excursion. We later found out that on that same day not 10 miles from us, Adam and his FYE video performers were traipsing through the streets for the video shoot and no one called us!!
Wall across the street from The Viper Room, plastered with posters announcing the upcoming release of Adam's FYE.

After arriving, we immediately got into the line that was already forming outside. We were about 20 people back. We visited with two very nice women who were from Florida on an extended red-carpet Twilight tour. This was one day before the opening of New Moon and there was a lot going on in Hollywood. While we were waiting in line, Marty Lawson, the very energetic and personable Bananager (dressed in a banana suit!) came out and started interacting with the crowd.
He visited with everyone in line and joked around as only a banana-attired man can. Orson Brawl (aka Dan Graupner) another member of the crew was on hand to document the evening on camera. Lila and I both appear in the following video at :13 (Lila) and :14 (Carol).
When it was time to go in, we entered and went down the pitchblack staircase, groping to hold onto the handrail. We filed into a small dark room with a floor-level stage in the corner and a bar in the back. This was a standing-only venue and Lila and I staked out our space right in front of the stage, about 3 rows back. The room filled with about 150 people, about 90% women aged 21 and up. We were treated to an energetic performance by this five-member band and many in the crowd were singing along with their original material, showing us that we were not the first guests to this party. The group's onstage cameraderie clearly showed they had spent a lot of time together getting to this point. Part of their signature is to ask the audience to call out suggestions for a song. From all the topics being shouted out, they agree on one and make up a song right on the spot. After the show, I asked the band's Uncle Larry if they used the same music and just changed the words. He said no, that based on the mood of the band at the moment, they decide on a groove and make up the music and lyrics. On this night, Flying Squirrel became the song.
Another part of their signature is known as Switcharoo, where on almost every song they trade places on stage and play each other's instruments. Lila and I were amazed at this display of talent. Only "Uncle Larry" Abrahms stayed connected to his bongos and chimes for most of the show, until he took keyboards at the end. But Jackson Rathbone, Ben Johnson, Ben Graupner and Jerad Anderson all showed their versatility trading regularly on lead vocals, lead and bass guitars, keyboards and drums. Ben G and Jackson share most of the vocals with Ben G singing in a rock-style, with Jackson being more of a theatrical singer. Simon would have a heyday with him. Lila and I loved them both!
Jackson Rathbone & 100 Monkeys singing at The Viper Room, 11/15/09.
As long-time concert attendees, it was very refreshing to hear how bands sound when they're in their "break-out" stage. The music and vocals come across more raw and alive. 100 Monkeys write all of their own music and are self-promoted and managed. A lot of their music is very upbeat, but their "lullaby" Keep Awake appealed to both Lila and me. Right now, it's a free download on their site.  Scroll to the section marked Keep Away and click on Download now. I challenge you to try to keep from singing the chorus later.
The band played for about 60 minutes, and we had such a good time with the whole experience. At the end of their set, Ben G placed his guitar pick on the keyboard, gave it a flick and it flew right down Lila's top! Since the Viper Room performance, they've begun their 100 City Tour. They played in San Diego last week, so Lila and I gladly went again, along with Lila's husband Jeff. I think he figured it was about time someone checked up on what the two of us are always up to. We knew we had to get Lila's guitar pick signed!
The San Diego concert was held at the SOMA Sidestage, an old movie theatre next to the Sports Arena, the location of the Idol Tour. At SOMA, the seats had been removed, again giving us a standing-only venue. Much better for providing an up-close, more personal experience. Hint: wear comfortable shoes to these events! We didn't spend time waiting in line this time. We entered the lobby about 15 minutes prior to the show but still got a great location, this time about 7 rows back but still in the center. By the end of the show, we had worked our way up to the second row! Before the show, Marty the Bananager was working the merchandise booth at the counter selling t-shirts, stickers and their brand new first studio-produced CD, Grape. He immediately gave us hugs, greeting us like long-lost friends. We both purchased the CD and spoke with him about the previous show and what was new with the band. He filled us in and after the show was over, Lila and I went around back hoping to meet up with the band. We got lucky and spoke with all the members of the band. They were so accommodating and anxious to speak with us, posing easily for pictures. They could have easily said no because they were in a rush, loading their instruments into their vans while we talked, so they could get on the road for their next-day's gig in Arizona. This made me think how established Adam is. Can you imagine him having to do the mundane chores for his appearances, like clean his wardrobe or drive to the site? That's the beauty of signing with a first-class team like 19 Entertainment!
The first to come out was Jerad, and he very nicely took Lila's and my Grape CD artwork in for autographs by the entire band. This band is paying its dues. And yes, Ben G gladly signed Lila's guitar pick. He signed his initials on one side and "Nice Catch" on the other!

San Diego was city #3 on their 100 City Tour. For our fans of this site who are in the desert Southwest/Texas region, please go check this band out! They're coming your way. They're heading for Albequerque, NM on January 4th, and into Dallas, Houston and Austin, TX on January 5th, 6th and 7th. You will enjoy yourselves, I promise! They have free appearances at several record stores, and most of their concerts are for all-ages, for a very reasonable admission price. See here for their schedule to find out when they're coming to you. Subscribe to their site for notices and scheduled appearances. It's incredibly exhilarating to feel like you're helping to establish an artist. Remember what we felt like when we thought we "discovered" Adam? I don't think Adam really needs us to feel like that anymore. But bands like 100 Monkeys sure do!
And if you go to one of their shows, be sure and tell them that Lila and Carol in San Diego sent you!
For a little fun, let's play The Six Degrees of Adam Lambert. You all know what I'm talking about, right? The game that originated with Kevin Bacon. Take Kevin Bacon and any other Hollywood celebrity, and take six steps to link them. Here's how it works with Adam and the band 100 Monkeys!
Six Degrees of Adam Lambert & 100 Monkeys
Degree #1: Randy Jackson announcing Adam had an "Edward Cullen/Twilight thing going on" early in the Idol auditions.
Degree #2: Adam dressed like a vampire.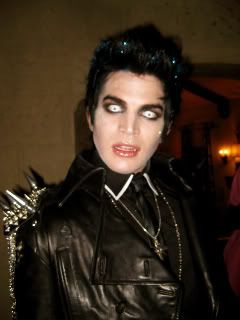 Degree #3: Adam biting Catherine Hardwick's neck.

Degree #4: Catherine Hardwick is the Director of Twilight.
Degree #5: Twilight's Jasper Cullen is played by Jackson Rathbone.

Degree #6: Jackson Rathbone (on keyboards) is a member of 100 Monkeys.

~Carol~