Our concert was not going to be just getting some cool clothes and going to the show. Noooooo! We had so much to do to get ready for this most amazing reappearance of San Diego's "Hot Rock God" (HRG). In case there are any doubts who I'm referring to, nah – – I don't need to finish that sentence, do I?
My partner in crime for the show was Lila, my new BFF that I met at the Homecoming activities and is a Fan Club Leader on this web site also. Be sure to read the article on this web site called "Getting Ready for the San Diego Concert – OR – How I Kissed the Striped Pants" for more details. I won't bore you and repeat that here. Or at least, I'll try to keep it to a minimum!
Our plans for the day were to start getting ready together around 11 AM. Luckily Lila's husband and kids were up visiting relatives in San Bernardino that day and my husband was off on a fishing tournament, so we had the whole day to ourselves. After all, we needed to collect all of our glitter posters, extra glitter for our Glitterazzi assault on The Sports Arena, glitter makeup for later application, make sure our hair was good, share any pieces of jewelry that would enhance our outfits (okay, I had to borrow Lila's – not the other way around!), pack our chairs, umbrella and cooler, and bring our magazines for signing.
Lila wanted him to sign a Rolling Stone and hopefully her "Feathers, Glitter and Leather . . . Oh My!" poster, and I wanted him to sign the People magazine that had a picture of Adam and me taken at the radio station on Homecoming morning. Adam was signing my CD of his Idol and pre-Idol work, and I asked him if he got my gift (engraved Ice Cream Dipper). He looked right at me with those incredible eyes and said "Yes, I love it!" This pause in the morning rush was long enough for photographers to get a great shot of him. Lila's in the picture too because she was shooting it from the other angle. We thought it would be a great idea to get a picture of Adam signing a picture of himself when he was signing something for me! Talk about coming full circle!
I'm holding my People magazine for him to sign. "Our" picture is the lower one.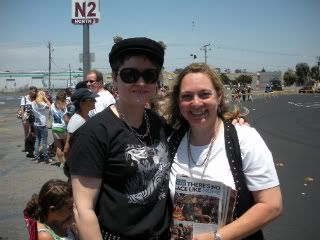 We'd heard that the busses arrive around 2 PM, and then the Idols come out and sign autographs and take pictures with the fans before going in to get ready for the show. We thought our 1 PM arrival would give us an up-front space in the crowd. Would it be 20 or 200? With San Diego you have no way of knowing. We decided at last minute to print up some Glambs' business cards so we could give them out to other fans of HRG at the Arena. We arrived at 1:25 PM, and noticed the sign – Event Parking $20 – with no in/out privileges, but they weren't charging yet. Phew. I glance up and look in my rear-view mirror. HOLY CRAP – the tour busses are RIGHT BEHIND US!! We have to park quickly and get out so we can get our autographs and take pictures!! We parked in the closest space and attempted to go through the area where the busses are now parked to reach the fan area. Picture a round building with the parking surrounding it in a complete circle. Now picture a clock. We were at 2 PM, the busses were at 1 PM and the crowd was at 12 PM. There was no way security was letting us cut through. We grab our cameras and magazines, and take off running from 2 PM – 12PM – no easy feat in Lila's new studded 4" heels and my new gun metal sandals that hurt like H-E-double hockey sticks!
[ad]
The Tour busses – all shiny and bright.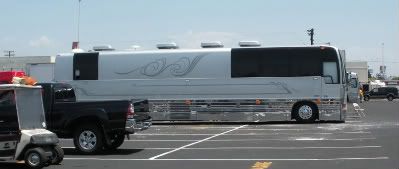 We hurried to the other side, and found about 50 people waiting. We went up to the front of the flimsy barricade (some saw horses joined by a string of vinyl flags) and pulled out our magazines and cameras and waited . . . and waited . . . and waited. Then some staff people started selling 8×10 pictures of Adam to the crowd for $5 each. Lila bought one. They finally started bringing pictures of the others for sale, but it was clear who the favorite was.
No one got off the busses for what seemed like forever. And when they did, it was just some of the "other 9". You know, Danny, Matt, Anoop, Scott, even Kris and Allison. We screamed, they waved, and they went into the Arena. No sign of Adam. After what seemed like another eternity, Allison, Matt and Kris, and some other staffers came back out and we were told they were going to Chick-fil-A, a fast-food restaurant in the parking lot. Should we go? Is Adam there already? What if we go and we miss Adam? So we stayed.
Now it was 2 PM and we saw them walking back with their Chick-fil-A bags and go back into the building. We scream and they wave again. Kris is pictured behind the lead person going in, followed by Matt, and Allison behind someone in the parking lot.
Idols returning from Chick-fil-A.
By then, the crowd which had grown to about 100, started getting some rewards. First Danny came out. He approached the end that was closest to the building, saying something to the crowd about us "coming to see the hometown boy." He was wearing some pretty cool clothes, a dog chain on his jeans and even some reptilian boots, like you-know-who! He talked casually to the crowd and signed autographs and took pictures. Lila got the back of her Adam picture signed and he posed with her for a picture. I didn't want anything from him though. As much as it chagrins me, I have to admit he was very cordial and pleasant.
Danny signing autographs at the start of the line.

Lila and Danny
Twenty minutes passed and Michael came out and started at our end of the line again. By this time, I was feeling more generous about the "other 9" so I "allowed" him to have his picture taken with me! He told us Adam put guyliner on him and it was pretty cool! We noticed Danny was still in the parking lot talking to the fans. He must have spent 10 minutes talking to one fan alone. Made her world, I'm sure! Soon after that, Danny went in.
Soon Matt came out. He had a little attitude, I must say. Probably just tired, sorry Matt. After all, we've read that doing the show was nothing like the life that touring is. Matt was signing, but he wasn't taking pictures. Said he'd come through the line again for those. Whaaattt??? But when he got past us, he realized that was kinda dumb, and came back and took pictures. Every time Allison appeared, there were screams and she'd wave, but she didn't come over.
Then all the Idols went back in for Dress Rehearsal. What? No one else is coming out? No Adam??? It was 4 PM and we decided to stay there, no need to leave and come back 90 minutes later, and have to pay the $20 parking fee. Smart decision to bring all of our stuff with us that morning. Dang it – we forgot the glitter hairspray! Oh well, we'd have to manage without it. Earlier I had moved my car around to the "fan group" area so we could get our chairs. This was right next to the main entrance. Cool, it would be an easy exit later that night. We walked all the way around the parking lot again (yes, still in our shoes!) to Chick-fil-A. This honestly wasn't so we could walk on the same hallowed grounds that some of the Idols had been on earlier that day, but because we were so hungry by then. It takes a lot of energy waiting for HRG in the hot sun! For coastal San Diegans, temperatures in the upper 80s is HOT!! As we arrived back with our food, we could hear Adam singing "Starlight" loud and clear with full band! I had to fight the urge to run up and plaster my ear against the window. I could hear him singing it beautifully from the bottom of the steps, but I didn't want to listen. I didn't want to spoil that night's show. Was I crazy? I've seen every YouTube video from all of the other shows, and have been joking that he really needs to change his set! After hearing Mad World umpteen times from all the talk show performances, couldn't he sing "Ring of Fire" instead?!?
After eating, we spent quality time visiting in line with people we "knew" from the Idol forums but finally got to put a face to the name, and others who we'd carpooled to the high school with on Homecoming in May. I took this time to give out over 100 Glambs' cards, trying to introduce more people to our web site. People were eating them up like they were from Adam himself! We even made a relationship with a parking lot security guard who assured us that everyone will be out signing autographs after the show. We "just have to be patient and wait long enough for Adam." We have hope now.
Six o'clock came and fans started entering the Sports Arena. We went in and started checking out all of the Idol merchandise for sale. In addition to the $5 pictures that were sold earlier that day, we saw programs for $25 and several shirts for Adam, Kris and the Idols selling for about $35. There were tote bags and lots of other stuff that I forget now! We were really glad that we had brought our own blue glow sticks from home, because the "official Idol sticks" were $5 each. We bought a bag of 12 for $10, and decided to give our extras to the teens who were dressed all glittery. I'm starting to feel a little funny about Adam's main fan base as I walk amongst the crowds. Is it mostly us "over 40 mature girls??" I can hardly imagine what he feels about that! Sure we've got the money and we gladly spend it on him, but while he was waiting for Idol to start and he was still glamming it up at The Zodiac, who did he figure his fanbase would be? The mushrooms at Burning Man certainly couldn't have told him it would be us!!!
The show started just past 7 PM and I won't bore you with the same run down you can read anywhere about the first 6. Yes, they all were very good, much better than on the show even. Michael started out strong, and yes, Megan is beautiful and awkward, and yes, Scott, who was sporting a glitterized jacket, really plays a great piano and is charming trying out some humor, and yes, Anoop sounded good but he should ditch the glasses and cut out the wiggling. He just can't pull it off. He even said he'd be back on his solo tour. Have I missed his signing deal? Lil still needs to find that certain something, but I really appreciated seeing the words to Single Lady on the screen behind her. I've only known "if you like it then you shoulda put a ring on it" and "whoa-uh-oh-oh-oh-oh" before. But I can't remember any more of it now! Matt was very stylish in his moves and I can really see him having success in some Vegas lounges. For most of the numbers, the band was too loud though, overshadowing the singers.
Intermission for 20 minutes. They repeated the same texting contest to go backstage now too. We didn't win – again. Time for the Glitterazzi Patrol to decorate the Arena. We got up and spilled some here, spilled some there, spilled some everywhere. Luckily we didn't get arrested and thrown out before the golden moment, as we had imagined in the weeks leading up to this.
Okay, back with the Top 4. Allison really rocked and as everyone says, I can't believe she sounds like that and she's only 17. She looked hot, and there was no doubt who she's consulting for fashion advice! She played electric guitar on "So What" by Pink, but it sounded very basic. More for a statement to show us she's a musician. I'd love to see her get some more inflection in her voice. She needs to stretch her range. The band was still too loud. Then it was time for Danny. He did a great job singing PYT, kind of representing all the Idols in homage to the recently-lost King of Pop. You've all heard about the salsa dancing, the "preaching" and mentioning of how tough the whole time on Idol was for him, considering what he was going through. I really do believe it was agonizing for him, and he dealt with it amazingly well. Oh no, he's finishing his final song. You know what's going to happen now, right?
The lights go out. The screens start exploding. The red bomb bursts start shouting at our eyes. We see the countdown number we've seen been waiting for. The crowd is going CRAZY! Everyone's standing and shouting out A-D-A-M! And then it happens. The smoke starts spilling to the front of the stage, the Whole Lotta Love lead guitar starts jamming the intro we've been waiting months to hear, the drums start pounding, the bass finds its way inside of us. And there, right before us is HRG himself!! Only he's more than a Hot Rock God by this point. He's the sum of every fantasy we've ever had, every Rock Star we've ever dreamed about going home with, every page of the FanFic we've never admitted to reading, OMFG – it's finally Adam! Moving with all the sexual energy your mothers and fathers never wanted you to know about, staring the audience down like they were toys for the master. And he starts to wail, "you need coolin'." Well, no duh Adam! You've put our lives into such a state of fever and chaos with every reach, grab and grind. It's amazing you haven't been arrested for not buying the microphone stand dinner first!
But wait, it's a little different tonight. There's no pointing to his "inches" and he isn't allowing his hands to travel south as much as in the videos we've memorized. And we got "baby" not "woman." He has changed up the melody here and there, using different inflections and freestyling with some riffs. He's relaxed and giving a slightly "mo fresh" version that either familiarity brings or maybe he wants to jazz it up for us? Either way, we're in heaven. His ending pose and notes are superb. It's confirmed. A megastar is making his debut. He segues into Muse's "Starlight" with the same "and now from a band called Muse, 'Starlight'." This song has been on one-song repeat on my iPod ever since he first mentioned singing it on the Tour. I was surprised when I watched the Portland video because he sings it in a higher pitch. I then remember that I took myself away from listening to the rehearsal earlier, and now was my payoff. OMG he's singing it so gorgeously. The hands, the arms, the facial expressions. Is this what you meant about theatrics Simon? If it is, bring it on! In my imagination, we're alone and he's singing it just to me! But wait – WTF? What did you just sing Adam? Whatever it was, it wasn't the lyrics that I've memorized. I can't believe on my favorite song, that you would blow the words! I guess it happens to everyone once in a while, but did it have to happen tonight Adam? If you want to see what I'm talking about, listen at 1:17 when he sings "I will never let you go" which should be followed by "if you promise not to fade away . . ." but instead I'm hearing some garbled words that I can only decipher later in a drinking game as "I will own you if you fade away . . ." And at 2:30, he gives a little change to the meaning with "just as long as you promise to fade away" instead of "if you promise not to fade away." Oh Adam. I know you're tired and excited. I forgive you.
[ad]

 
Mad World is ethereal and fabulous, and the audience is singing along loudly. Slow Ride with Allison, his new "little sister" as he tells the audience, totally rocks and the hug at the end is still cute. (But did he really need to sacrifice one of his songs for the duet? Couldn't she have sacrificed one of hers?) The Bowie medley is energetic, to say the least. He's prancing around on that stage owning every eye that is transfixed on his Hotness. The gyrating starts immediately and I'm still wishing that I can be the one to "turn" Adam. During Fame, a blue feather boa makes its way on stage. Later, (see video at 2:30) he picks it up and swings it overhead like a lasso, then releases it to the side of the stage. We've heard recently that the stage "dudes" have told him not to throw the offerings back to the audience. Instead, he should keep them and they will staple gun them to the bottom side of the stage. I saw the blue boa disappear later in the song (at 4:00), but not to an audience member. Maybe it will be the inaugural stapling?! His bump and grind movements in "Let's Dance" clearly suggest that he wants to rename it "Let's (something else)." Insert your choice of verbs here. This performance convinces me the Idol-safe Adam is no more, we now deliciously have The Zodiac Adam. He ends with his fist in the air, and as he descends down the platform, calls out "I love you San Diego!"
WE LOVE YOU TOO, ADAM!!
[ad]
But wait a minute, he's just gotten warmed up. Where's he going? It's over too soon. I have to order myself to transfer the mental images I've had for the last 20 minutes from short-term memory to long-term memory (read "enjoyment" here).
I guess it's a good thing that Kris follows him with "Heartless." It gives us a chance to cool down. And thankfully I'm rocking out to The Killers instead of "No Boundaries." I realize that Kris has really improved as a showman. He's going to have a very successful career in front of a completely different audience than Adam. I still feel that no one on Idol before or after, will ever have anything like what Adam will have. But I'm preaching to the choir here, right?
Although I've never smoked, after seeing Adam I still felt the need to light up. I thought a blue glow stick was appropriate!

It was now time for Don't Stop Believin', the ending group number. It was a bittersweet moment. It was very upbeat, but I couldn't help starting to get depressed because I knew the show was about to be over. We could see how much fun the Idols were having with each other as they vocally celebrated the end of another successful show. But both Lila and I realized something was missing here. There were a few parts where either someone's microphone wasn't turned on, or someone was really hoarse, because there were definitely some missing vocals. Adam (wearing a glittery but goofy baseball cap) and Kris arrived on stage courtesy the rising elevator towards the end of the song and the place went crazy again. Everyone knows why. It's no secret, even among the Idols. Everyone has read scores of the same reviews saying how the others are a warm-up act for Adam. But they all still love him and show him off by pointing to him when he goes for his bankroll notes. Adam even gets the distinct honor of saluting the band.
**JUST ADDED VIDEO:***

Everyone knows who owns this Tour, who rocked Season 8 and who has changed Idol forever. We may be telling our grandchildren that we were there for the making of this legend, but the other 9 will be telling their grandchildren that they got to share the stage with him. Yes, I've gotten over the fact that Kris won. Adam is right, it really doesn't matter. What does matter is we're all winners after the show.
The show ended around 10 PM, and we rush outside. WOW – a lot of people must have left before the final number ended because there's a giant crowd outside, about 10 times larger than earlier today. Or did fans just show up for the signing? After an hour, Lila and I manage to nudge our way to about three rows away from the edge. Some of the Idols had already come out and were signing autographs. The atmosphere was much more chaotic than earlier today. No time for chat or pictures with the fans this time. Pictured below is what we could capture by holding our arms up and blindly shooting.
A quiet Kris Allen signing
IMO, they all seemed pretty tired. Kris seemed really quiet and kind of distracted. Slowly, almost everyone came out. The teens in the crowd were so cute, yelling to each of the Idols how much they loved them, even though they were clearly there for one person, and one person only. Finally around 11:45 PM Adam came out with his big bodyguard. And he was wearing that same goofy baseball cap. Hey, none of the other Idols had bodyguards? This must be because of the mob scenes we've heard about. But dang it, he went to the opposite side, the side where where we weren't. How typical of him to go "against the grain!" What do we do? Do we rush down there? But we'll never get anywhere near the front edge, where we'd made our way to now. No, we'll stay here. After not coming out during the day, he'll for sure make it down here, won't he? Then all too soon, around midnight he and his bodyguard turn and go walking to the bus. The crowd starts chanting for him. We grab our glitter posters and hold them up high, hoping he'll see them and come back.
Lila and me holding our glitter signs for Adam!

He does look at us (or at least in our direction!) and wave, mouthing "sorry," so maybe he saw us? We're told they have to be in Arizona at 3 AM and it's midnight now. It's a 5 ½ hour drive. Why would they have to be in Arizona at 3 AM??? But one bus does pull out about 10 minutes later, leaving us dumbfounded. Our concert is definitely over.
Gathering ourselves together we're more than a bit let down, almost feeling like jilted lovers. Like he's broken up with us, given us back our rings, and now we're yesterday's news. Not even the burritos from Del Taco on the drive home are cheering us up. As I finish this, it's been 7 days since the concert. They've played other shows, and are onstage in Arkansas tonight. Lila and I have gotten over the disappointment of not having time with Adam, and we've realized that we're just fans. He didn't ditch us. He just has so many more people requesting interviews with him than the others do. As a writer with lots of chutzpah, I contacted 19 Entertainment weeks prior to the concert, and requested some press time with Adam for an article for this web site. Each time I checked back, the "Adam staff" had told me they were trying to work out some interview time with Adam for us. I had such high hopes of writing an article for this web site, only to be told on Friday that they couldn't work it out. Up until this point, Lila and I had been pinching ourselves thinking we may get to meet him. Maybe next time! We're still, and will always be your fans, Adam!!
So was the concert what I was expecting? No way. It was MUCH more!
[ad]