Thank you so much to Fernando for starting this story! Okay AdamFans, please forgive the time lapse in the follow-up on it. With out-of-town visitors, parental surgery, and the holidays including my son's day-after Christmas birthday, I let this go far too long.
As soon as we found out Adam was scheduled to be on Leno, four of us applied for tickets and miraculously 3 of us got them. Between us, we had 8 tickets to share with our friends and family to attend the taping. We started going through our address books and decided we only wanted true AdamFans to go, not just a relative who didn't know much about Adam, if that's even possible!
Of course we had to invite our web site owner Fernando, and I was so glad he was available. I hadn't seen him since the Finale Watching Party that web site administrator Lila Hayes and I threw for the San Diego community at Seau's, a local sports restaurant. Lila and I invited other friends and family who were already dedicated and our group of 8 was set.
Lila and I left around 8:30 AM from San Diego, stopping 3 times on our way up the coast picking up the rest of our group. In La Jolla we picked up Lila's friend Osia, in Oceanside we got Sami, who we carpooled with to the high school on Homecoming Day, and in Irvine we got my sister Julie who had just driven out from Texas for the holidays.
Pictured from left to right:
Glenda, Fernando, Diana (in back) Carol, Sami, Lila, Osia. Julie is camera shy!

If you've never been to a show taping before, there's a tremendous amount of waiting. Even more if you want to be assured of a good seat! We arrived at Leno's Burbank studios around 12:15 PM. Ticket holders had been instructed to arrive by 2:45 PM, for a 4 PM admittance. Admission wasn't guaranteed, and we knew to get there early for good seats. There was an outdoor gathering area marked for the ticket holders, right off the sidewalk where there was limited free street parking. With our early arrival we got free parking. We were also fortunate because the weather was beautiful. A few days earlier Southern Cal was having upper 80 degee pre-Christmas weather, then some rain! But today was a calm 70s and clear.
Around 2:45 we were led to another outdoor sitting area, and welcomed by an NBC page to the Leno taping. She instructed us several times to use the porta-potties, because once we were inside, there would be no coming or going. She very nicely told us not to complain about any of our seats; "they're free!" We were also told "no cameras – you will be ejected. No calling out during the monologue or during the guest appearance – it's rude and will be edited out." So no inviting Adam out to party!
We went inside to the studio in small groups so we could be seated by the ushers. There were 3 rows of chairs on the floor, and several sections that were about 20 rows high. Most of the rows in the section that was in front of where Jay and his guest sit had seats taped off with names on them. A few seats in each of these rows was available and our group of 8 was split into 3 of those rows. I was in the first row off the floor, directly in front of the guest's chair. We were hoping that Adam would get to talk with Jay, not just perform, as he'd done on Letterman. If so, he was about 20 feet away from me! I wished I could take pictures! I sat with my friend Glenda and her friend Diana, who came up from Palm Springs and Los Angeles. I was next to where the taped off seats for our row began. I wondered who I'd be sitting next to? Lila and Osia were one row up from us, and Sami, Fernando and Julie were in the next row.
Around 4:15 PM, the VIPs were escorted to the taped off seats. When Adam's mother Leila entered with some friends, they were led up the stairs next to my section. What if I got to sit next to her?? But they went up about 10 more rows. I imagine that she requested to sit up that high, and not be down at the stage. As soon as she sat down, I looked up and all the heads in our section were turning back and forth talking excitedly. I can only imagine how many tweets were sent!
The VIP seat next to my sister was taken by a familiar-looking guy who none of us could place, sorry! He was tattooed, had scruffy long blond hair and looked like a heavy-metal rocker. He was with his wife and an older man, probably a parent. The VIP seats next to me were taken by some people none of us recognized.
When all seats were filled, a comedian came out and started warming us up, testing our laughter levels, applause levels, and basically instructed us how to have a good time for the benefit of the sound engineers. He did some funny routines but we were all glazed over, just waiting for the show to start and the chance to see Adam and hear him sing. He told us to turn to the person next to us and hit their arm. The metal rocker dude next to my sister did just that, smacking her pretty hard. He immediately turned to her and apologized. She asked him if she should know who he was, and he kind of said yes, but he wanted to stay low-key. He was there with his wife because she was a huge Adam fan! So she never found out who he was.
During a break, I gathered my courage and went up to Leila, hoping I wouldn't be thrown out! I introduced myself as an author from this web site, gave her one of our Glambs business cards with my contact info, and told her we'd love to do an interview with her. She smiled and said that would be fun, but didn't give me any contact info for her! I thanked her for having such a wonderful son who is bringing so much enjoyment to so many people. She seemed really taken by that, and we shook hands and I retook my seat.
Next Jay came out and welcomed us, dressed in jeans and a denim shirt. He told us that this would be filmed in "real time," and there would be no take-overs or edits, unless necessary. Even though we knew we weren't getting an encore of the AMA performance, we wondered how toned down Adam would be! Jay made a fuss over an audience member who was celebrating her 19th birthday with some college friends and they took pictures. He then went backstage to change and his band came out and started to play.
From the video, you can see how the rest of the taping went. Since this was filmed in real time, the band played throughout all the commercial breaks. They sounded great and the lead singer is a very talented woman. She went into the audience pulling members up to sing into the microphone. When she came up the aisle next to me, they were doing an older song that I knew by heart and was singing. She pulled me up and gave me the microphone, and somehow I remembered all the words and even sounded on key! For the life of me, I can't remember what song it was, and neither can anyone from our group! Fernando, can you help? I'm sure this will be the closest to singing with Adam that I will ever come. At least we shared the same air!
Jay seemed very interested in talking to Adam, reaching over and touching his leg or arm several times. I think that Adam is a dream guest. He is a great conversationalist and is very at-ease on camera. His "safe plucking" comment was very quick and got a big laugh from Jay! One very interesting note to point out, when they were talking about the 2 rumors Adam wanted to dispel, Adam couldn't remember what the second one was, and asked for help. An assistant came up behind him and said "your father" loud enough for us all to hear. From there, Adam went on and quashed the rumor about his dad being upset about his AMA performance. But you'll never see that part. It was edited out, and you'll just see a scene break at 6:59 going from rumor one to rumor two. From now on, when we see a scene break on future shows, we'll know that there was an edit.

Then it was a commercial break and Adam would sing next. We were all so excited. We couldn't imagine him singing without his band, but none of the instruments were set up. Then a screen to the left of where Adam and Jay talked lifted and we saw Adam's band. Phew! The set started filling with fog, the lights went down and then Adam was on! He and the band sounded great. It's different than when he performed on the Idol Tour. He's his own performer now. He looked right at the audience most of the time while he was singing and Sami thought he was looking at our group because we were all mouthing the words! I'll go with it!
During Adam's performance, Jay was standing at the edge of the set, moving his legs back and forth to the music, keeping his eyes intently on Adam and the band. We've all seen Adam and Tommy Joe go back to back in other performances, and I was so happy to see him do it here too. But during that part of the playback, the camera is focused on Lisa and her keyboard. You really have to look to see Adam and Tommy Joe, and you only get a brief moment of it at 2:48. Was this intentional?
They went to commercial, and Adam and his band went back stage. The warm-up comedian was right in front of me, so I gave him one of our Glambs business cards and asked that he give it to Adam. He said he would. I have no idea whether it happened, but it can't happen if I don't try!
Next was the Mrs. Claus skit. If you ask me, it was pretty "dirty," talking about Santa's "fat ass" and what it was like to be underneath him, and how she'd "had the elves up to here." Graphic: her hand was waist high, insinuating oral sex, but since this was hetero, I guess it was okay.
Then it was over and we exited the studio, all feeling so grateful to have been there that day. Not knowing the area, we searched the GPS for restaurants and picked Michael's Bar & Grill, close by.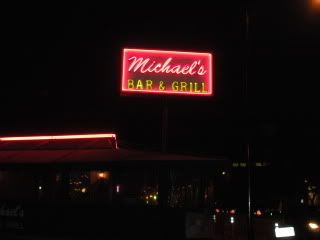 We were giddy (and starving!) from the entire day's experiences, grateful we had shared a day of Adam's life with each other. We can't wait for the tour, and for when we get to hear and see Adam again! I hope that you all get to have an experience like this for yourself too!
~Carol~