Last Tuesday (1-17-12) I was up in Los Angeles attending the taping of The Tonight Show with Jay Leno, when Adam Lambert gave that incredible performance of Better Than I Know Myself. I am so grateful that my girlfriend Diana Juarez had extra spaces on her ticket, and offered them to Lila and me. A few days later, miraculously Lila also got tickets, and was able to invite more local fans to be with us in-studio. Through Twitter and email, we found that many more of our friends would also be there.
Wanting to continue the party with so many great friends, I arranged an after-taping dinner at Miceli's Restaurant, a wonderful Italian restaurant that a few of us had eaten at before, when we were in Los Angeles for another Adam adventure. Both Miceli's locations (Hollywood and Universal City) are known for being the only restaurant in the area where the serving staff sings while you're eating. Our group of 8 grew to 12, then 16, then 19. In fact, many of you might know them via Twitter. Our group consisted of (twitter names) @lliillaa, @lisalisansd, @suz526, @glspence01, @CoralMermaid, @Sue_in_LA, @angelraj, @remavineyard, @Sherry12559, @adams-kitty, @ovationimpact, @heartnnsoul, @diedreinorbit, @adamfanann, @scmtnbert and me, @cmhagey. Also joining us were Mary Jane, Janis and Sandi. (Sorry, I don't have all the Twitter names!)
From my several conversations with the restaurant updating our number, I learned that a few of the staff knew Adam, and they were thrilled we supported him. They were looking forward to a group of Glamberts coming in!
As we were finishing our delicious meal, server Shannon Warne, came up to the table and greeted us, telling us she'd been in plays with Adam ten years earlier. We were all so excited that she came to talk with us. This was someone who actually knew Adam! We started asking her about him, and she quickly told us "everyone knew how special Adam was." They knew he was going to be a star! She was quick to point out that the Adam she knew didn't look like the Adam of today. She said he had reddish-blond hair and his weight was different. I don't think this was news to anyone, but those within his past circle may not realize how much his fans know about him!
Shannon was happy to share some stories from their friendship. This was during the time of American Idol's first seasons. She told us she didn't watch the show, but Adam was obsessed with Kelly Clarkson. After Season 1 was over, Adam would make Shannon sit in the car with him and listen to Kelly's CD. He sang along and raved about how good she was! Then Season 2 came on, and every week he'd make Shannon watch it with him. We asked who he liked that year, and she said when it came to Ruben and Clay, that he liked Clay. They never talked about voting, but she told us she "was sure he was voting like crazy!" I feel so much better now about the hours I spent, voting for Adam! If he did spend time voting for Clay (or anyone for that matter!), then he truly understands the efforts his fans have made for him. I don't remember if you could text vote during the early seasons, so if not, he was sitting on the phone hitting the redial, just like us!
Soon after Season 2 of American Idol, Shannon and Adam lost track of each other. This is until Shannon started seeing television commercials for Season 8 and she couldn't believe it when she saw Adam on them! She called him and left a message asking "what are you doing on that show?!" He texted back something like "OMG! Everything is going so fast – it's really crazy!" Unfortunately, that was their last contact. Maybe if he reads this, he'll get back in touch with her! 🙂
To learn more about Shannon, you can visit her website here.


Shannon Warne
After Shannon left our table, we were so giddy, not believing our great luck in meeting her. Next, our waiter Christopher Carothers tells us he'd also been in plays with Adam! We'd already been delighted in listening to Christopher sing that night, and couldn't believe he'd been keeping this secret! Hadn't he heard the table talking about Adam and the stunning BTIKM we'd just heard?!! He went on to tell us about a night in 2002 when they were appearing together, whent Adam cleared the house! Adam and Christopher were in the Fullerton Civic Light Opera's performance of My Fair Lady, at the Plummer Auditorium. When the second act started, Christopher was on-stage, and all of a sudden the fire alarms started going off. Backstage, Adam had knocked a soda can over onto the fire alarm, causing the audience to evacuate. Christopher said Adam got into trouble, but not as much as the person who left the can there!
Like Shannon, Christopher also says he knew Adam had talent like no other. It seems everyone knew Adam was a star among stars. You can learn more about Christopher here.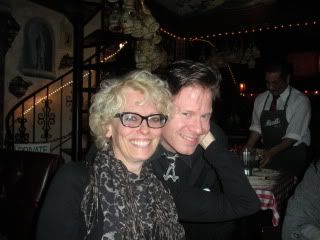 Jan and Christopher Carothers
Even though I couldn't see Adam when he sang, I'm not complaining. I got to be there and hear it live! But most of all, I had a fantastic day spent with the most incredible group of ladies, and the bonus of hearing these amazing stories from Adam's former peers. Glambs, we got our first exclusive! I'm happy to share this with you! 🙂
Love ya!
~ Carol ~