There has been a book written by Kerry Kolsch, who claims that she has uncovered the evidence proving it was Adam Lambert who really won last season on American Idol. This is the same author who wrote the article I posted in "Adam Lambert Brings the "Cool" Back to Acoustic." While I respect this author's talent and really loved that article, I see no need for this book. It's a 480-page, download-only book for almost $12 that details an alleged "Arkansas conspiracy" that was manufactured to give the Idol Season 8 title to Kris Allen.
Here's part of the write-up on the book:
A singing contest became an Arkansas state endeavor involving; the local Chamber of Commerce, state politicians, churches, radio, television, newspapers, businesses, universities, banks, dancing cows and Toad Suck Queens. With the intensity of a hotly contested political election, the whole state took on Adam Lambert. The people in Kris's home state were whipped into frenzy by a clever, professional PR team that was interweaving their own personal goals into a Kris Allen win and used a long list of sponsors to promote the cause.
Yes this sounds really juicy. And while I would have liked nothing better than for Adam to have won, as far as I'm concerned, the show is over and it's time to move on. And if I could be so bold as to assume that I know what Adam's thinking, he probably wants nothing to do with this. I'm sure he'd think it's in bad tasste.
In my opinion, the only difference is it gave Kris more success than he would have had without the title. As much as I wanted Adam to wear the crown, it makes ABSOLUTELY no difference for him. Unlike the presidential election with the "hanging chads" where the Florida voting mess supposedly gave the presidency to Bush instead of Gore, it's not like Kris got anything that Adam didn't. Just look at the stats. Who has been heralded as the real winner by so many? Who has sold more records? Who is lighting the world on fire this very minute? Who was asked to do a move soundtrack song? Who is releasing their 3rd single? Who is already talking a summer tour as the headliner and who isn't?
I see on Kris' web site that he's supporting Keith Urban on April 23 at The Joint/Hard Rock Hotel in Vegas and in July at a fair in California. He's also playing at a theme park and supporting Daughtry in concert. He's got about 7 dates for July, Aug and Sept. – hardly a tour!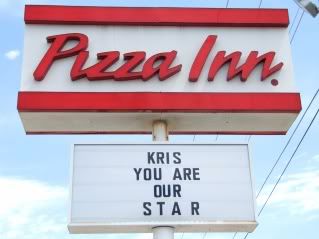 I truly wish nothing but the best for Kris. But there's no comparing the two – a clear case of apples and oranges.
If you're still interested in checking out this book, here's the link.
~ Carol ~