Clay Aiken Disses Adam and then Apologizes
I, like many of you, use to be a fan of Clay Aiken..  until I read the comments about Adam Lambert. I understand everyone is entitled to their own opinion but his comments were way too harsh. Then again, I'm a little biased. To me anyone who does not like Adam Lambert has issues and everyone who does like Adam is my friend… I must have a lot of friends around here 🙂
The first article is regarding Clay horrible comments and the article below is when he apologizes to Adam:
[ad]
Clay Aiken vs. Adam Lambert: He Made My Ears Bleed
Bobby Bank/Getty Images, Frank Micelotta / FOX
[ad]
Well, me-ow.
Don't count Clay Aiken among those upset by Adam Lambert's second-place finish on American Idol. Or, for that matter, among those who can be bothered—or care enough—to even watch the show.
There's apparently no love lost between Ruben Studdard's second banana and Kris Allen's, evidenced by an entry posted yesterday on Aiken's subscriber-only-accessible blog.
"For the record…I couldn't be happier about the way AI ended this year," Aiken wrote, per Defamer. "I only turn the show on once a season, and only to see what the set looks like each year.
"This year, I happened to turn it during the minute that Adam Lambert was singing 'Ring of Fire' and, at that moment, thought my ears would bleed. Contrived, awful and slightly frightening!"
He then delivered his final blow: "Just not my cup of tea at all. To each his own."
Granted, Aiken admitted that he never had the good fortune or even desire to assess Allen's pipes, and acknowledged that some of his most trusted pals told him Lambert's performances were usually "great," but he believes the battle ultimately came down to likability.
And per Aiken, like it or not, a vote for Kris was just as much a vote against Adam.
"From what I saw, Kris seemed likable," he wrote. "That's not to say that Adam isn't just as likable as anyone…maybe more so…I don't know.
"Until the finale, folks are voting for the contestant that they want to see continue," he went on. "But, I believe on that last night, the dynamic changes. No longer forced to choose one person that they want to see win, the audience can effectively vote AGAINST the person that they don't want to see win."
In that way—and that's the only way he's willing to go on record about—Aiken claims he and Lambert are very much alike. However, while he and Studdard were evenly matched and equally worthy, he believes the balance was off this year and that voters were reacting to a season in which there was "an obvious bias."
"Not even having watched the show, I can tell you that I was WELL aware of the bias from the judges as to who should win. In my opinion, that is awfully unattractive. I don't think I am alone.
"I think many were turned off by the blatant favoritism shows towards one contestant…And, at the same time, I think they voted AGAINST an American Idol that has, for four years now, been more about the slick productions and polished contestants than it has been about finding the raw talent that it did in its first three seasons.
"Enough with the pretention. More Rubens, more Clays, more Fantasias and Tamyras and Kellys please."
Wonder what Carrie Underwood, Jordin Sparks, Taylor Hicks and David Cook ever did to him.
And lest critics think Aiken is just bitter on account of his not taking home the Idol title, think again.
"My faith has always been in the voters. I think they have gotten it right every year (mine included). It's now up to American Idol to decide if it will finally REALLY listen to the folks that keep it on the air."
Guess that means the duets album is out.
[ad]
__________________________________________________________________________________________
Clay Aiken Semi-Apologizes to Adam Lambert, Slams the Blogosphere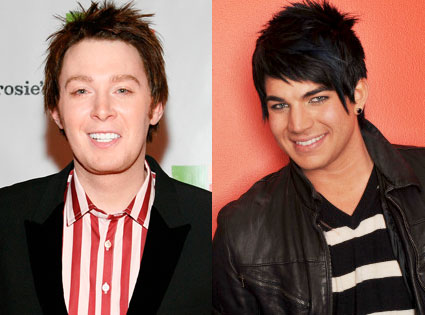 Amy Sussman/Getty Images, Michael Becker / FOX
Clay Aiken has retracted his claws regarding that other American Idol runner-up, Adam Lambert.
The Broadway star took to his members-only blog last night to address his earlier statements about the vocal styling's of Lambert. Explained Aiken, "I obviously meant it as a colorful statement to imply that I did not enjoy what I heard. Any performer hopes that their music will appeal to all people, but no singer realistically expects it to."
And while no one believed that Aiken literally bled from his ears at the sound of Lambert's voice, the singer chose to place the focus on the blogosphere's misinterpretation of his words rather than the harshness of his remarks.
"My opinion is just that, only my opinion, but for as much as some of the blogger's seem to dislike me and care so little about my thoughts, they sure can waste a lot of their space on what I say," complains the performer.
To be fair, when that opinion happens to be about the most talked about kid in Hollywood and refers to said "It" man's singing as "contrived, awful and slightly frightening," a certain amount of feedback should be expected.  
All criticism aside, Aiken makes it clear that he in no way meant to insult the rocker. "The only person I would really dream of apologizing to is Adam. And the irony is, if he's smart he couldn't give a crap what I think." Aiken continued, "I do apologize to Adam for my colorful (and negative) choice of words. I hope he can forgive me. I imagine he doesn't give a damn!"
And he's probably right. Lambert has way too much on his plate to worry about a little criticism. Plus, constantly fielding questions regarding his sexuality—coincidentally, a topic not unfamiliar to Aiken—and enjoying the outpour of Twitter support from all sorts of celebs can take up a lot of time.
[ad]
 So what do YOU think? Comment below.