It's time for Part Three of this four-part interview. Here, Adam talks about his time in "Wicked,"  being in a long-distance romance, and his audition for American Idol.
~Carol~


So you left "Wicked" to become a rock star?I came back [to Los Angeles] and took some promo shots and started rehearsing. We had a handful of songs. I don't know if any of them were great, but it was a start. At the time, we believed in them. We did a couple gigs here and there. The band was called the Citizen Vein. We performed at the Knitting Factory one night, the Cat Club on Sunset, and a club in Hermosa Beach. We did three gigs and that was it and we recorded a couple things, like rough recordings, and I don't know, it didn't quite click. We kept writing and doing things, but then I got into my first relationship and I fell in love and I was going out a lot. I was dressing up, just living my life and having a great time. Falling in love was major. It changed everything, because up until then, I was 25 and I hadn't been in love. I felt like there was a part of me that was like, "I don't understand something about life, like a big thing." I listened to these songs on the radio or CDs or I'd see these musicals about people being in love with each other and what that feels like and what heartbreak feels like and the joy of what love is and I had sex but I'd never been in love and just didn't get it. It was really interesting because during and after that relationship, everything changes. It's like, "Oh, that's what they were talking about." I thought that was so corny before and now I am crying because I totally identify with what that feels like. So that was a big turning point for personal growth. 
I went to Burning Man… which was another big eye opener. People living in this utopian society and how beautiful that idea is — and after Burning Man, I looked for social outlets here in L.A. that were part of that underground scene, not the typical bar scene but more of a neo-hippie movement.


Adam is on the left and Cheeks is in the middle
You know, these underground clubs downtown. That was a really fun community to become a part of. Then I did a production of "Debbie Does Dallas" in Lake Tahoe. It was a topless revue at Harveys Casino. I was desperate. I could not find a job. It was going to pay me. They were going to put me up. It was with Anita Mann, the woman who did the cruise ship. I went up there and I was missing the person I was with and I was miserable because I was in a long-distance relationship and the show, when it was pitched to me, sounded like it was going to be a different situation and it tuned out to be not the most professional situation in the world. There was hardly an audience. They wanted to see boobs. They didn't want to hear me sing, so they would talk. It was not a good gig.
I heard they were rehiring for the Los Angeles company of "Wicked," and it had been about a year since I had been out of the touring company. They were going to form a new company and I thought, "I don't know why I left. That was so stupid. I need to get that job." And so I begged. They said, "Why did you leave? We don't know if you're just going to leave again. It's a liability for us." I told them, "No, no, no. I was stupid. I was lonely on tour. I wasn't satisfied and had outside opportunities. I really want to be in a sit-down company and then I can work on all my outside stuff and still work on the show," and they said fine. So I came back and I opened the L.A. company of "Wicked."
As Fiyero again?
The understudy, yes. Exactly the same thing.
For the same actor?
This was a different guy. He was out a little more often, so I got to go on more, during the almost two years we were open here.
So you stayed for the entire Los Angeles run?
I stayed. I lived right down the street from the theater, and I really enjoyed being a part of it. It was a great job, and it was nice to have money again in the city and live my life. There was a producer I started working with. He was forming his own publishing company for placement in film and TV and advertising campaigns, so they hired me to be a songwriter. And so I would go down there a couple days a week during the day and lay stuff down and write and really started to build a nice collection of music and I felt like it was at a much better level. I'd learned more about writing, about pop hooks, how it all works. Through trial and error, we got some good stuff. I was doing some session work here and there, so I was really starting to move toward, "I really think I should go for this now." I felt more confident and I started getting frustrated with "Wicked." I felt they weren't promoting me and it wasn't satisfying. I started performing at clubs, just to get my name out there. I was going to release music. I really got into the idea of becoming a solo act. I think a couple years before, the idea of that really scared me because I was concerned about, "How are people going to think of me?" and "I'm never going to have a private life if I do that."
I didn't think I was ready for that. I didn't think I could handle it and then I really got into the idea of it. I had turned 26 and felt, "I'm getting old and I still haven't been to New York yet." I knew there was work for me in the theater and I could move to New York and probably work there, but I'm particular and I never really considered myself the best actor in the world. I wanted to be myself, so I was less and less enchanted with the idea of musical theater. There weren't a lot of shows that were interesting to me musically or conceptually. I wanted to do my own thing. So I started experimenting, doing club acts and the pop/dance thing.
I sang and I had two dancers and we were wearing really wild clothes and then I was doing stuff with Upright Cabaret. It was like the New York tradition of having all the show actors and people in town come together and sing, like Joe's Pub [in New York]. I met a lot of great people through that and got a lot of attention.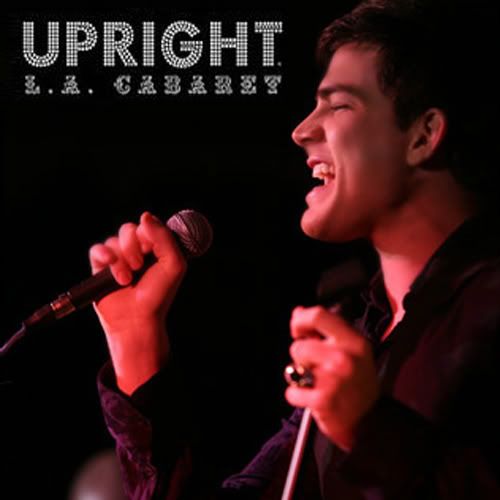 Where did you think this was all leading?
I put my faith in the producer that I was working with, Monte Pittman, that when all this music was finished, he was going to do all the work to get it out there, and he did do a lot of work. But he had just come from New Zealand. He was really established there, but he was new here, like an outside player. So I didn't know how quickly that was going to happen, and I wondered, "What are my other options?" And last year when "Idol" was on, we were all watching it at "Wicked" and everybody would discuss their opinions of who did better and why, and then somebody said, "Adam, you should audition for that," and I thought, "Yeah, maybe I should."
 This happened during Season 7?
Yes, but I watched a lot of the seasons. Not all of them, but a lot of them.
When did you first watch the show?
I watched the first season. I remember Kelly [Clarkson] was on and she was great. I was really excited, but I didn't think they were going to like me. I thought I was too out there.
You are a little out there!
I am a little out there, but I'm kind of a strategist in that I knew what I could get away with and what I probably couldn't get away with, so I tried to dumb myself down for the first couple auditions. You know, look a little more normal, dress a little bit more low key.
Where did you audition?
In San Francisco. I drove up with two of my best friends. The next morning I had gotten an hour's sleep because I was really anxious, and right as I auditioned, I reached this epiphany where I thought, "You're about to be 27. What do you have to show for yourself? You've done a couple shows. You're working. You know you can pay your bills but do you want to do something great? Do you want to do something major and launch yourself? Yeah, I do," and I knew that "Idol" was going to be, if I could get it, such a platform. I'd seen people that had been on "Idol" and were eliminated playing leads on Broadway, and I knew that's the way New York is now. If you're on TV and you're a celebrity, you can get a lead in a Broadway show. I thought that's what I should do because they don't seem to want to promote me at "Wicked." The worst-case scenario is that it would enhance my career in the theater and the best-case scenario is that I could do really well — and I didn't know what it was going to be.


You knew the odds were against you, but that was OK, right?
Yes. I walked into the first audition with the judges, and Simon and Kara said, "You're theatrical." I had a feeling it was going to go down like this. They're going to be, "Oh, he's too Broadway," even though I don't feel like I actually am when I sing. I'm theatrical, but I don't think that it's necessarily musical theater.
What did you sing at your first audition?
I sang "Crazy" by Gnarls Barkley and then "Bohemian Rhapsody," and they said, "Don't sing 'Crazy' at the next audition because they can't get the rights to it and everybody tries to sing it." I sang ["Rock With You" by] Michael Jackson and they wanted to hear another one so I sang "Bohemian Rhapsody" and that's the one they ended up showing on TV.
Were you a Queen fan?
I'm a huge Queen fan. Freddie's the man. He's the voice. Just the musicianship required to sing that kind of music is really high. It's very melodic and rangy and dramatic and I appreciate all that.
Could you ever have imagined while auditioning with "Bohemian Rhapsody" that a few months later you'd be on stage singing lead vocals with Queen?


Weird. It's weird full circle stuff all around. It's thrilling, but it almost loses its impact in a funny way, like, "Oh, of course I'm onstage with Queen." What the hell's going on? "Of course, KISS." I can't believe it. This can sound very pretentious if taken the wrong way but I almost feel like I've been preparing for this my whole life. I do feel this is what I'm supposed to be doing and I have a fatalistic view on life that things happen for a reason. I feel like everything that's led up to this point has prepared me for this. It's the whole "Slumdog Millionaire" thing, where it's like his whole life like leads up to that moment and the only way he gets through that moment is because of all of his experiences. I went to see "Slumdog" as this was all happening and I was just in tears because I was so touched by the concept of that movie. And I wouldn't have done what I did on the show had it not been for what I've gone through and my experiences in my life and what age I'm at. I wouldn't have been that confident. I would have been second guessing myself. I would have been really busy people-pleasing as opposed to just doing what I do. It was meant to be now.
–Fred Bronson