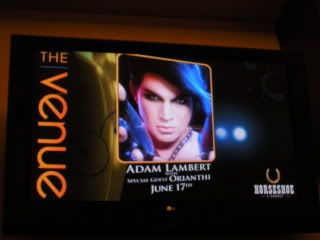 Since many of Adam Lambert's concerts are General Admission, I thought I'd share some of my experiences and offer some quick tips on how to make your concert one you'll never forget. Fan site administrator Lila and I started going to GA concerts last year when we attended our first-of-many Muse shows. All of them are no reserved seating on the floor, but standing on a first-come, first-served basis. I attended Adam's Hammond, Indiana show last week and it was the same thing. I have never had a bad experience with this practice. In fact, they've made for some of the best concerts of my life. Lila and I were 5th and 3rd row at Muse/Las Vegas and Muse/Phoenix, right in front of lead guitar genius Matt Bellamy and last week I was front and center with Adam!
Now there's no getting around the "have to go early" syndrome if you want an up-close-and-personal experience. Sorry. But there is a way to make it much easier. I've never done the "get there the night before" thing. At Hammond, the first person got in line at 9 PM the night before. The next person arrived around 3 AM, and others trickled in during the next few hours. Depending on the location, some will let you sleep there, some won't. This is something you'll have to take a chance with, if you think it's necessary. Contact the venue and ask about their policy. Lila and I believe in showing up relatively early the day of the show and scouting out the situation to see if there are others in line yet. If not, we leave for a while and check back later. Usually we've come from out-of-town and like to see a little of the city, if only to go get a good breakfast!
For Hammond, Ellen, Cheryl, Janet and I arrived around noon the day of the show. The first people in line had a clipboard, pen and several sheets of paper. Upon arrival, everyone signed in with a name and number, and then wrote that number on their back of our hand with a Sharpie. We were numbers 31-34 in line. This system is brilliant! However, this was NOT something that was supported or endorsed by the Hammond officials. They made it emphatically clear that they would not follow the list and if people complained, would not enforce it. It was simply our Glamily's system of civility and trust, and we were all standing behind it. If anyone would have dared to challenge us, they would have been surprised to learn how strong a group of women can be! In fact, a group of 3 sweet men weren't happy when they saw the group in line ahead of them, but had no one to blame but themselves for arriving when they did. We got no fight from them! The beauty of the sign-in sheet was it allowed for us to leave the line, go have something to eat, tour the facility, and just keep checking back to see how things were going. Some of our party felt the need to stay there the entire time, but that's up to you. I wouldn't feel right about signing in and not returning until it was time to enter the show. People could challenge you, and this is where you're on your own. You obviously become friendly with the people around you. If this is the first Adam event you're attending, it may be your first time to safely be among others who share your same passion and dedication to Adam.
Tips:
1.) Even if you're not going to be the first person to arrive, bring paper and Sharpies (don't use washable ink) to start the list. Everyone will be grateful to you for using your head!
2.) Think about bringing portable chairs, food and drink and things to make your time more comfortable, depending on your needs. Usually doors open about an hour before the show starts, so take your chairs and things back to your car about 90 minutes prior. Again, call the venue ahead of time and ask about bringing food to the line and when they plan on letting people in.
3.) Another thing to consider is what part of the stage do you want to be in front of? Again, be prepared. Call the venue and ask them the width of the stage. Usually there's room for 35-50+ to be at the front. What is the number on your hand? Will it allow you to be front row, center? Have a back-up plan. Do you have a favorite performer in the band that you'd like to be in front of, if you can't be close to Adam? For example, do you want to witness first-hand the next Adam-Tommy kiss? Tee hee! Band members will always take the same position on stage, especially when there's choreography. And we know there's lots of that on this Glam Nation tour! That will give you some idea of where in the room you want to quickly walk to when they open the doors. You decide, is it better to be second row on the end, or 5th row back in the center?
***ADDED SUGGESTIONS FROM OUR READERS! THANKS GUYS!!
4.) Wear comfortable & possibly closed-toed shoes. You'll be on your feet a great deal of time, and in close proximity once the show starts. Protect those pedicures and toes!
5.) Choose a place ahead of time to meet up, just in case you're separated from your friend(s). Thanks Lila for reminding me about that! 🙂
6.) Drink enough water so you don't become dehydrated, but make sure and go to the bathroom before you go in. The crowd can be very unforgiving in trying to let someone get in front of them, even if you say you're just going back to your place!
I know many fans are freaking out a little about not knowing ahead of time where they'll be. I hope this helps brings some calm to that anxiety. Most of all, enjoy your concert and get ready for a show like no other you've seen before! I've seen Queen and David Bowie, so I know what I'm talking about here! No matter what row you're in, you're going to have an AMAZING story to tell. But above all, if you don't have plans to go to any of Adam's shows, rethink that and do what you can to get to at least one. You'll be thanking yourself for every dollar you spend and every moment you spent waiting in line. Once this national tour is over, if he begins an international tour, who knows how long it will be before he's back?!
I can't wait for my next "Fever" to start!!
~ Carol, Glamb #7 ~