Below is the video of Adam Lambert's performance at the AMA:
Note that this video has gotten hard to get a hold off but we have updated it with a current higher quality one.
[ad]
So did Adam fall and then roll over or was that in purpose?
Was the kiss (with a straight guy) a bit too much?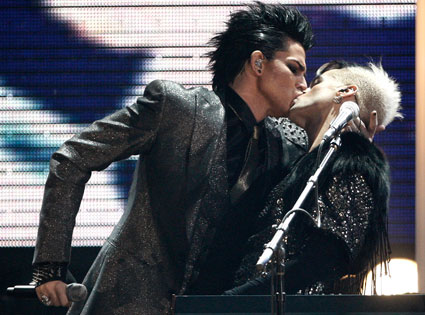 Matt Sayles/AP Photo
Adam told Rolling Stones "We're in 2009; it's time to take risks, be a little more brave, time to open people's eyes and if it offends them, then maybe I'm not for them. My goal was not to piss people off, it was to promote freedom of expression and artistic freedom."
He also mentioned that "he didn't do anything female performers haven't done on television already."
Reports about the West Coast broadcast of the American Music Awards indicate that ABC kept the kiss with Lambert's keyboardist, but cut away from the simulated oral sex with his male backup dancer.
What did YOU think of this performance?
Love it or hate it we know this much so far, EVERYONE is talking about the most shocking performance from Adam to date.
[ad]