While surfing around the net this morning, I found this very appealing story. We've already seen Adam as a vampire over Halloween, so why not push for it? The main part of this article talks about Idol, but at the end, he asks for our help!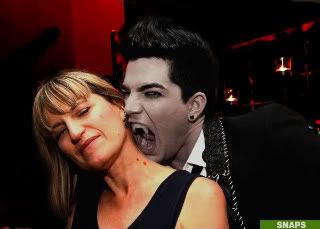 Here's Adam putting the "bite" on Twilight director Katherine Hardwick. True Blood can't be far behind!
And if that wasn't enough – – –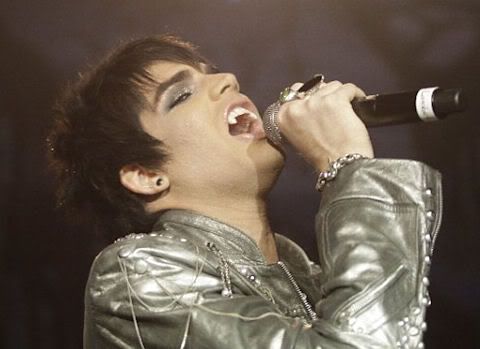 The following article is by Lindzi Scharf of TV Guide Magazine.
~ Carol ~
Those who think Ryan Seacrest should change his send off from "Seacrest Out" to "Seacrest Out-of-it!"—back off! According to one famous American Idol alum, the host's odd on-screen antics were the result of multi-tasking.
"He's a hard worker," Adam Lambert told TV Guide Magazine. "He's got a really busy schedule. I'm sure every once in a while, he gets tired. I'm sure that's the explanation."
The season eight standout, who was on hand for last week's questionable behavior, admitted he was just happy to be back. "It was really exciting," he said. "It was like a homecoming seeing all the familiar faces and the crew and the judges. It was awesome!"
After his highly publicized Idol appearance, Lambert landed back in the spotlight on Saturday at the 21st Annual GLAAD Media Awards in Los Angeles where he performed for an adoring crowd that included honorees Drew Barrymore, Wanda Sykes, and the cast of Glee.
"There will be sparkles and dancers!" he promised, before hitting the stage to perform Music Again and Fever off his debut album For Your Entertainment. "Visibility in the entertainment world is important for the gay and lesbian community. That's our first line of progression. It's just as important to show diversity within the gay and lesbian community. We're getting there. We're getting better. Baby steps."
Meanwhile, the singer is ready for his close-up. "I'd love to be on True Blood," he divulged. "I want to be a vampire rocker. I'm putting it out there through you. Hopefully it'll get back to them."