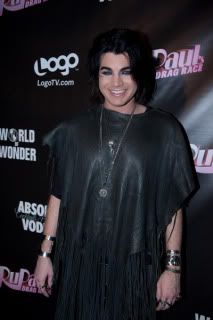 Hurray!! We have visible proof that Glam Master Adam Lambert is through resting after his world-tour and is coming out for fun!
Check out these pictures of Adam from the red carpet at the premiere of Ru Paul's Drag Race, Season 3. It's certainly a new look for us. He's taking a leave from the manicured professional look we've seen for 10 months starting with Fantasy Springs back in February and giving us a more natural, relaxed side. I just saw Adam one month ago at the Los Angeles Glam Nation Finale. My big question: is it a hair piece or extensions?? No one's hair can grow that fast!! Let us know your thoughts!!
Rested and gorgeous!

Full Length
Still hanging with his buddies, Tommy Joe, Taylor & Terrance!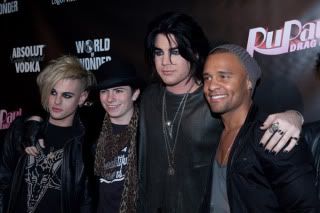 For more pictures, click here.
Love ya!
~ Carol ~