I couldn't believe it when my girlfriend Ellen said she had extra tickets to both the Milwaukee and Hammond/Horseshoe Casino concerts. Since I had credit on Southwest Airlines that was going to expire soon, I decided I was going to follow my passion and fly out to visit her and see Adam with her and Sue, our other author, not once but twice that week. Oh my, that impulsive behavior was it worth it!
Sue has already posted her article on Milwaukee, so I'll cover my experience at the Hammond show. This was a General Admission ticket which meant no reserved seats. You have to pay your dues and wait in line for as many hours as you're willing to sacrifice, for the chance of an "up close and personal" experience. You then get "standing only space" on the main floor, on a first-come, first-served basis. (I'm posting an article soon on Tips on Surviving a GA Concert, since so many of Adam's concerts are this method.) There were many wonderful people in line, and I'm including this great picture of Mariel, who I couldn't resist talking to when I saw her. I'm sure you'll agree after looking at her amazing outfit! She told me she only woke up to Adam from the AMA's on, never seeing him on Idol! Imagine that!! I hope she's caught up on him via YouTube!
Mariel, a fan only since the AMAs!

I'll cut to the chase, we were fortunate enough to get center almost front-row position. People who beat me to the rail were leaving space between them. I had enough space to put my hands on the rail, but couldn't get enough room to actually stand there. They weren't budgin' for nothin'. Oh well, I was only inches away, I certainly can't complain! On that front rail, next to the girl in front of me was a guy who was an obvious fan of Adam's, because he had made himself up to look exactly like him – minus the new shaved side of his head! I even said to him, "I'll laugh so hard if Adam comes out here and says 'whoa, it's like I'm looking into a mirror!'" But the guy had no personality or sense of humor because all he did was blink. In fact, he and the girl next to him who wouldn't budge, never showed any real signs of excitement during the whole show. There ought to be some sign of life requirement to have those coveted front row spaces!
With me was my girlfriend Ellen, her sister Cheryl and my new friend Janet, who is a friend of Ellen's and Sue's. Standing with us was a very nice young man named Joey, who was there with his mom, Terry. They were adorable, reminding us of another close mom and son we know! Joey is a professional dancer and Terry even had an envelope with his cover shot and resume in it. We all knew we had to get Joey as close to the front as possible, because he was definitely Adam's type! And this was something he wanted too!
Cheryl, Ellen, Carol and Janet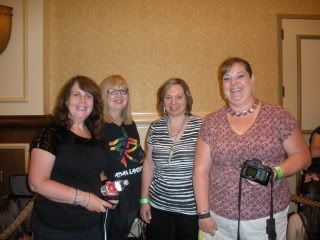 While we were waiting for the night to begin, there was a large screen to the side of the stage that we could text a message to. Some really funny, sentimental and outright gross comments made it up on that screen. We were all amused, but the best comment had to be about Neil. You all know Negative Neil, right? Adam's brother, who is having the summer job we all wish we had – to be a production assistant on the Glam Nation Tour! Someone sent a message to the board, and it got Neil tweeting as the concert was in progress. Someone tweeted "neil is hotter" on adam's jumbotron at the show tonight. We all died laughing." He also sent this tweet to follow: If anyone has photo evidence, it is desperately needed. That was followed by: I mean photo evidence of the jumbotron, people. come on. Neil's a scream, as usual!
Because she was under 21, Allison Iraheta couldn't perform at the Casino. This also was the case with Taylor, one of Adam's dancers. So we had only Orianthi to warm us up before Adam would take the stage. She was very good, and with this being the second time in as many days to hear her, her songs were now sounding familiar and catchy. But honestly someone needs to give her (and most performers) a little coaching on public speaking. So I'll do it. Slow down when you talk to the audience. We can't understand you, especially when you have an accent! And we would have loved for you to introduce your band, like Adam does. This goes for Allison Iraheta too. The band members are so talented and deserve some spotlight recognition!
Allison Iraheta rocking out in Milwaukee.

During the Milwaukee show, Orianthi came onstage with Allison.

Orianthi wailing on the guitar at the Horshoe Casino.

Then it was time for Adam. The voice, the costumes, the band, the lasers, I was so excited! I couldn't believe that Adam was including Ring of Fire in his 3-song opening! I love the irony of how on American Idol, Country was the one genre Adam was least looking forward to singing. Yet his ultra sexy version of Ring of Fire really started the love affair between him and many of his fans across the country and world. My placement right next to the stage put me about 4 feet away from him when he was at the front. And oh was he gorgeous, and he sounded perfect, as he always does. I was in a complete state of euphoria. Being this close, you get to see things that are missed by most. Like the quick smiles between him and the band members or the communication with the sound mixers off stage. We could hear the entire audience singing along with every song. It was so loud he had to hear it too. You get to see every pore on his beautiful face, get the textile sensations when you look at his incredible wardrobe (even the pieces with the "A" on the back that remind me of Alvin and the Chipmunks!), and even see that sexy chest expand with his breathing. Okay Carol, let's take it back a few steps!
Here's my video of Adam's opening Hammond set – after Brad Walsh's FYE remix: Voodoo, Down the Rabbit Hole & Ring of Fire.

You can catch all the videos on YouTube, but I'll include a few of my favorites here.
Something that I've noticed about these concerts verses that iconic Fantasy Springs show was that Adam is so much more confident on stage, if that's even possible. And unlike other performances in the past, he never mixed up his lyrics. He's really become that true superstar that we all knew he'd be.
Adam singing Whattya Want From Me, about 4 feet away!

EDITED WITH NEW TIMES: My favorite number that night was If I Had You. I love how his face lights up when he approaches the audience at 2:38. Check out his tongue action at 3:34 and how friendly he gets with choreographer Brooke. My heart still beats fast every time I see this!
**Sorry, the Hammond version I was talking about has been pulled. I've subsitituted my own video, shot at Milwaukee 2 days earlier. If you can find the Hammond version, treasure it!
If I Had You – Milwaukee
I FOUND ANOTHER VERSION FROM HAMMOND!!
I got a little personal thrill about midway through the concert. Lila and I had been two of about 12 people at the baby shower last month for guitarist Monte Pittman's wife, Lisa. Monte attended the shower for Lisa and opened all our presents, since Lisa was on sudden bed rest. As a surprise, Tommy Joe also came and stayed the whole time, chatting with us like we were old friends. Being so close to the stage that night, Monte recognized me in the crowd when he came forward to play, and greeted me a few times during the evening with big smiles and head nods. It was great, but I wished I would have known that Sue stumbled upon the busses the concert before in Milwaukee, getting to spend time talking with both Monte and Tommy Joe!
We had heard through the grapevine that depending on his mood and how he feels about the audience, he'd decide whether the encore would be Mad World or Whole Lotta Love. At Fantasy Springs we all were passing out from the raw, organic performance he gave of WLL, and had always hoped he'd perform it again. In Milwaukee, we were thrilled that he chose WLL. But at the Horseshoe Casino, he gave us both!
Mad World –Whole Lotta Love – Hammond/Horseshoe Casino This is the video I shot – I hope it's okay.

If you have any chance to see Adam on his Glam Nation Tour this summer, please go for it! You'll never experience anything else like it. I've discovered that you have to follow your passions. Strive in life for what you think is crazy, and instead of beating yourself up for it, you'll thank yourself later. I know I did my whole plane ride home!
~ Carol ~